Email: sales@colostrum-australia.com.au or Call 0499 147 972
ALPHA LIPID™ LIFELINE™ COLOSTRUM
The original
breakfast shake
Start your day with the power of colostrum
Live life to the fullest every day with Alpha Lipid™Lifeline™
A delicious tasting breakfast shake that strengthens your immunity against viruses and bacteria.
Packed full of essential vitamins & minerals.
Just one serving per day
Colostrum Australia - Pauline Young
Independent Diamond Representative of NEW IMAGE™
Why you should
take Colostrum everyday?

Colostrum is a powerful natural source of antibodies that can destroy or neutralize the germs causing illness.
Colostrum is a milk protein that contains the best natural source of growth factors to heal and protect your gut wall.
Colostrum is a type of milk that has been shown in scientific studies to boost your immune system. The natural antibodies it contains will help fight off infection, inflammation and other conditions caused by weak immunity while giving you greater health overall
Things that can
weaken your immunity
Deficiency of vitamins A, C, E, B or
minerals - zinc and selenium
Stress causes the release of cortisol
which suppresses the immune system
Over doing it - too much exercise,
work or play
Your immune system is designed
to defend against millions of bacteria,
microbes, viruses, toxins and parasites
from invading your body.
Who should take
Colostrum?
EVERYONE!
Improve and strengthen your immune
system – antiviral, anti-bacterial.
Assists with recovery from short term
illness e.g. flu, sore throats, cold.
Improves skin texture, lines &
appearance of aging.
Increases energy & mental alertness.
Supports healthy aging - from
children to grandparents.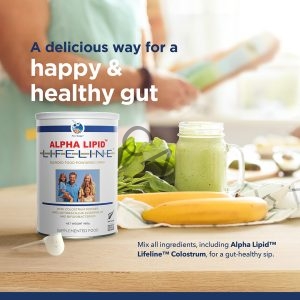 Improve Your Gut Health-foods to improve your gut health The human body has an incredible ability to heal itself, but it needs the right tools. Our immune system is coordinated by a robust gut microbiome and army of white blood cells that protect us from illness – if we're eating healthy foods like fruits vegetables…
Read More

→