Protein Shaker – Electronic Rechargeable Mixer
Experiences show that mixing is smoothier and intake is clear at a glance if not more than 500ml
Auto Electric mixing cup – One button to turn it on
The problem of protein powder clumping has also been solved.
Protein drink mixer Automatically stirs and saves time and kicks away the anxiety.
The small size is easy to store and spare more space for you.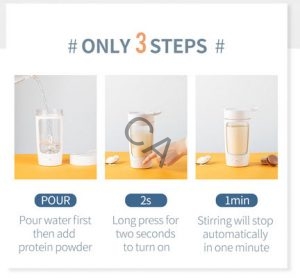 USB charging – Easy to use drink mixer
30 minutes run time
3.5 hours to fully charge
Large capacity mixer 650ml
Suitable for Alpha Lipid Lifeline Colostrum drink.
SAY GOODBYE TO SHAKING YOUR DRINK BY HAND!
Enjoy delicious food and drink the right and easy way by using our Protein drink mixer shaker.